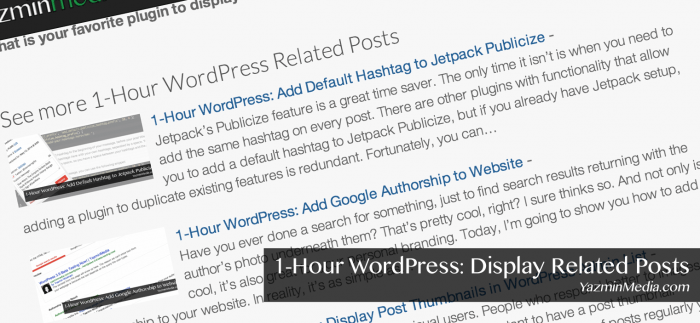 Have you ever been to a website with large community involvement? Tons of comments on posts, regardless of the age? I'm sure you've wondered how they do that. Aside from engaging visitors with great content, providing them with related content is a popular way to increase your visitors involvement. You, too, can display related posts easily to engage your users and encourage community.
I'm not going to go into the pros and cons of each plugin, as a quick Google search for "display related posts" will pull up a number of plugin reviews for more detailed information. But if you want the quick and dirty on the plugins, there are several popular related posts plugins available, easily split up into beginners and advanced categories:
Plugins for Beginner WordPress Users to Display Related Posts
If you're just starting out with the idea of displaying related posts to your visitors, one of these plugins would be handy for you. Configuration is usually super quick and easy, and most of the plugins have pre-made templates so you can just install and get started right away:
Plugins for Advanced WordPress Users to Display Related Posts
If you don't mind getting your hands a little dirty with configuration, or you don't mind waiting a bit for the results, you can try one of the following plugins:
What I Use on this Site
I don't use many tags on this site, but when I do, it is to tie together a series of posts. I use that to my advantage and work with the Display Related Posts plugin to display related content at the bottom of my posts. You can see it in action at the bottom of this post.
What is your favorite plugin to display related posts?
See more 1-Hour WordPress Related Posts
[display-posts tag="1-hour-wordpress" title="See More 1-Hour WordPress Posts" include_excerpt="false" image_size="thumbnail" wrapper="div" posts_per_page="5″]